I'm going along pretty good with the new novel. Mostly, though, I'm doing preparation.
I figured out this method with Blood From a Stone, my NaNoWriMo book of last year. Because I only had 2 weeks to do NaNo, I had to have a road map. I usually pants the thing, and I end up going off on tangents and side roads, getting lost. War Mage's first draft is a lot like that. It's why I ended up with 6 drafts before sending it to the editor (and I know I have issues there).
So with this one, I'm doing up a main plot, and then sub-plots. I happened to be reading a book at the same time called Blueprint Your Bestseller, which describes this method that I stumbled upon. Instead of calling them "plots" the author of this book calls them "series". You have a theme, which is the main series, and then other series that point to the theme.
I always start out with a theme. Homecoming's was Home is where your heart is. War Mage's is Friends can be found anywhere. High Road's is It's better to take the high road. A lot of times my titles allude to the theme. Heavy-handed, aren't I?
There can be only one theme in the book, and every scene and series has to point to it. The first draft of War Mage showed me that I had scenes that went no where, scenes that had no place in the book, and characters that were repetitious and similar. Using the method in Blueprint, which was written for rewrites, I can tear apart War Mage and put it back together, with a main plot and subplots. (Sorry, but I'm going to use those terms instead of "series".)
What I've been doing mostly is character sketches and subplots from the characters. Some of them want to be furniture, so I'm doing quick physical descriptions of them and their attitudes. When stuck, I use StoryMatic or The Positive Traits Thesaurus or Negative Traits Thesaurus to get an attitude.
Other characters want a life of their own, so they get the full treatment. I have tiny composition books I bought at Dollar Tree; they come in a package of 3 for a dollar.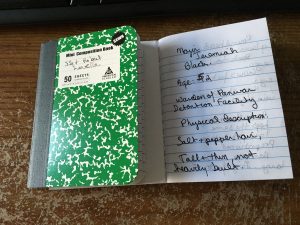 I have a character sheet that I downloaded from some writer's site I don't remember, but it goes into excruciating detail. I don't answer all the questions – except for Brent, I really should redo his character sketch. I pick and choose some questions and put them in the little composition books. For example, one question is, "Does he want to have children?" My character, a staff sergeant, is going through a divorce according to the subplot. Does he have kids? How many? What are their ages and names? What are they like – brief traits? How does he feel about them? I fill up a small page with these answers, which spurs me on to other questions, and rinse and repeat.
From the characters come the subplots. I am an index card freak. I write out the scenes on index cards and put them on a ring. Staples has what I normally use, and they can be found sometimes for $1-$1.50. I bought oodles of them on sale, so I have a box full of them. I write out or keep in mind the subplot's main point – the "where am I going with this" idea – and then I write out the scenes. Then I thread them among the main plot on the ring.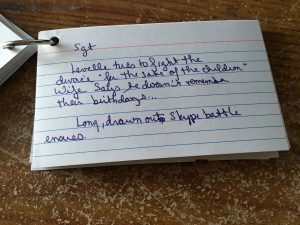 This card is using the subplot named "Sergeant" (at the top) and goes into a scene. I don't give a lot of details because then I'm writing the scene, I believe. I give enough to whet the muse's appetite, or to spur on what I was thinking of at the time.
Sometimes, though, I get the urge to write. I've prepared the first few scenes, so I know where I'm going with those, and those are the ones I write. I'm still in chapter one, but I'm on scene three. I need to make "looking at profiles" exciting.
Comments Off

on Preparation