Grimaulkin's Grimoire
Health is Everything
It's true. I went to the Association of Rhode Island Authors' meeting (which didn't have an elevator) so I had to climb stairs. It took me almost a half an hour to get from my car to the meeting, and out of the meeting to my car.
And I have an event in two weeks. At first, I was going to do it by myself, but just thinking about carrying all those books in on my own, setting them up, and tearing down–when I can't even walk down stairs!–just scares me. I do have a helper who is being forced to come with me, but I have nothing for him to do so he'll be bored.
I certainly hope that by August, when appearances ramp up for me, I'll be able to do more things on my own.
Grimaulkin Tales is ready to come out on May 1, with some advance copies at the Providence Book Festival on April 27. At that, all the table real estate will be taken up by books, because I have a 3′ table space. Only two spots for business cards, a spot for the Corporate Catharsis flier, and the rest is all ten (YES, TEN!) of my books.
I am working on Blood From a Stone and will be working on it for a while. What happened is that in the middle of the book, I started dictating and there's tons upon tons of dialogue that have nothing to do with the story. Not to mention NO QUOTES. Six pages of doing laundry. That's going to get excised, for certain. And I repeat myself a lot. Characters don't do what they're supposed to, or they just do an awful lot of thinking.
Yeah, it's a mess. It will be Maxwell's story, but it's still a mess.
Death card
The Death card in Tarot means endings and new beginnings. I've just finished Grimaulkin Tales (not Grimaulkin Collected – that's the omnibus edition) and it will be available May 1.
Now I'm working on Blood From a Stone, doing the long and detailed rewrite of the story. It's not as wrecked as Yellowtree. Yellowtree needs a total rewrite, I think. I might end up parking it in the drawer and starting something entirely new, but I love the title and I can't let it go.
My next event, hopefully, will be the Providence Book Festival on April 27. I may have copies of Grimaulkin Tales there – no promises. Regardless, they will be available at PrideFest (if the Association of RI Authors has a presence).
Brother of the Zodiac omnibus should be available soon as well. Here's the first draft of the cover..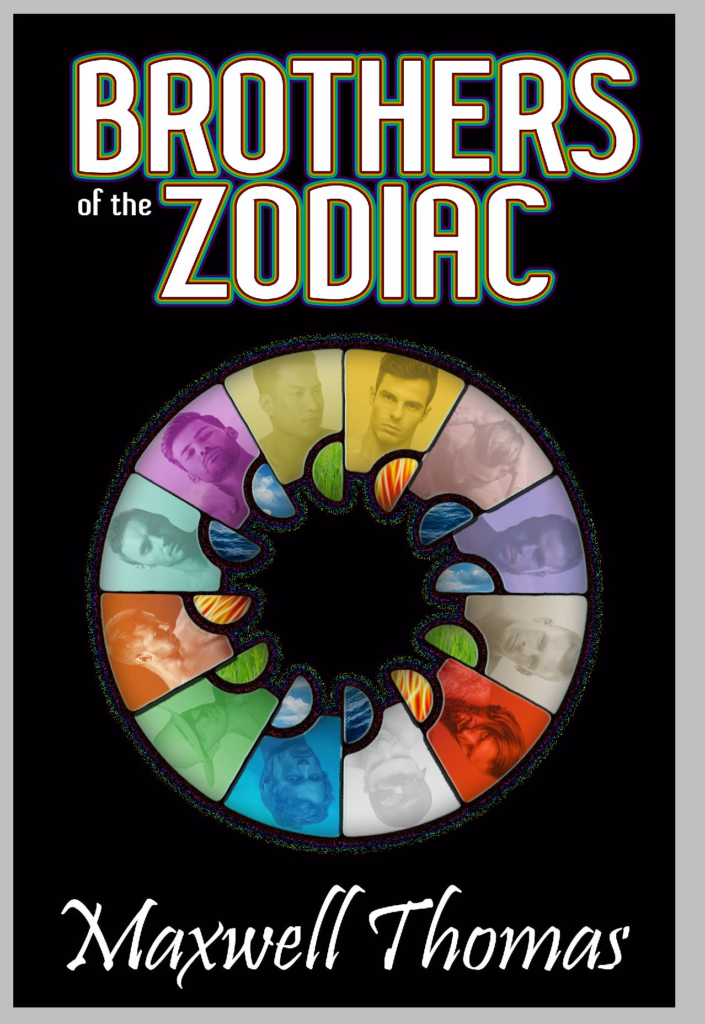 The second draft has some Easter eggs and this will be available soon. Blood From a Stone will be under Maxwell's name because of the subject matter.
I am trying to think of a different story to do. I liked the character of Turbo that I developed in Champions. His brother was a superhero and got injured, so Turbo took up the mantle himself without his brother knowing. I'm not sure if the superhero market is any good when it comes to stories–I know that the urban fantasy series is still going strong. I want to write to market a little bit, because otherwise the book will end up in the remainder pile somewhere. But I don't want to sell out. It's a fine line.
I want to write something that I can enjoy writing because after all, I'll be with it for months. And you, Gentle Reader, will be with it for hours. I don't want to waste your time on it, either.
Well, first thing's first – finish Blood From a Stone and then take a look at the landscape to see what's next. As with the Death card, every ending is a new beginning.
Love and Hate
I love Grim, don't get me wrong. I love playing him, and writing him.
But to do it for two weeks straight? That he's all I think about for two weeks (now three). I have two stories left for the anthology, and getting them written is like pulling teeth. The idea is there, the few pivotal scenes are there, but there's no thread combining them.
I usually write in a chronological order. I have tried writing a scene here and there, then putting the thread between them. It never works for me, because it bothers me that I've put something on paper, and it is in stone, unchangeable–and I have to mold the rest of the story around those few pivotal scenes. If they're in my head, they're changeable.
I have one week to write two stories. It's not fun anymore. After this anthology, it's time to put Grim to bed and keep him alive only on Champions Online. Sorry, but I don't want to end up hating the guy, and writing book number 14 in the series, pissing off fans and milking the character.
Release
I started writing again. I had to rewrite one of the stories in Grimaulkin Collected, and when I did it, the creative stuff started to flow again.
However, there's one story in Grimaulkin Collected that I have to get rid of, because I can't seem to write a happy ending. Instead of three stories, I need to come up with two. I think I can whip them out pretty quickly given the chance and non-distraction.
The plan is to have Grimaulkin Collected out in June. I want to do something with Yellowtree, but the state that it's in right now is horrible. After tearing it apart, I noticed my issues, and I can't seem to see beyond them to change the story. I love the title "Yellowtree" and the concept of using fey this time around. But after that…I have no idea what to do with it. I'm trying to let go of the wreck I wrote, but I can't seem to think outside of the box.
I've been reading non-fiction these past few months, mostly about chaos magic and esoteric studies. I read a couple of male erotica stories while in the hospital and found they filled the well for Maxwell. I tried to read a few other urban fantasy stories, picking up boxed sets, but they were garbage and disappointing.
I'm tempted to write another novel with Mike and his apprentice Ash. I just need to come up with a reason.
Hard work
On Kill Zone, a blog I read, someone wrote the seven rules of writing. One of them is what I've been working on this whole week.
Writing is a solitary and thoughtful process.
Let me explain what I've been doing. I've been trying to edit. Word on my Windows computer seems to be corrupted, but on my iMac it works fine. I edited a whole bunch of stories for Grimaulkin Collected before trying it on the Mac, and the formatting has come out all screwy.
I have three stories left to write in Grimaulkin Collected (yes, still the same three as last week), and I have one story to edit on the iMac. The thing is the editor has suggested that I engage the characters more in this story.
So in between fighting off exhaustion, being still sick, and decluttering my house, I've been doing a lot of thinking. The problem with thinking is that I feel that I haven't been producing. There's no words on the page. I've been trying to think of Ash and his interaction with Mike–because in the story right now, Ash is a paper character.
With all the other stuff going on, it's very hard for me to concentrate on getting this/these stories done. I suspect that as soon as some of these stressors ease up, I'll be able to concentrate on getting back into writing again. Hopefully by the end of this week.
In other news, Air's audiobook should be coming out very soon. I listened to "Libra" this morning and wondered who the hell wrote this–it's really good. I love when that happens.