Grimaulkin's Grimoire
When it can't get worse
On February 12, I had a seizure and a stroke. It effected my sense of balance, coordination, and memory. On the 14th, I had another seizure. I woke up on Wednesday, the 15th after the last thing I remember was going to bed on Sunday night.
I didn't know where I was or my full name. I didn't know the year. I couldn't touch my own nose.
I was a week in the hospital. I refused a skilled nursing facility, so they sent me home with some visiting nurses, PT and OT to regain my sense of balance. I have a walker, which I use temporarily because my right side is weakened. (The stroke was in the left cerebellum area.) I can still walk with aid, climb stairs with assistance, and type.
I haven't done any writing yet, though I plotted out two stories.
Fluid.
Too much fluid. I almost was in the hospital after getting sick and not being able to breathe. Come to find out, I had fluid in my lungs that dialysis took care of on Tuesday.
I almost passed out on the way to dialysis, I did pass out at dialysis for three hours. I had to go to a funeral after that, and barely stayed awake through that. When I got home, I went right to bed and slept from 12 p.m. to 3 a.m., waking up every two hours. I felt a lot better. I'm still feeling weak. I'm not hungry but I just forced myself to eat half of an Eggo waffle. That's all I could stomach.
The hospital doesn't like giving people oxygen or pain meds. I got tons of tests done (CT scan, XRay of the lungs where they found the fluid, blood tests ad nauseum–even a urinalysis). Nothing. Everything normal.
The only thing I felt "wrong" was after eating dinner on Saturday–I felt overfull. Even the next day. But it was Christmas, and what do you do for that holiday? EAT. And throw up.
That's what happened. Now I'm being careful. When I feel full, I absolutely STOP. I made a whole waffle, but couldn't eat more than a half.
Maybe this is the catalyst to help me lose weight.
TBR pile leftovers from 2022
In October, my son dared me to not buy any more books. Ha. Hahahaha!
I failed, as could be expected. So I compromised.
I bought Kindle books.
Here is my list of books to read this year before buying any new ones (yeah, right).
The Rise of Theodore Roosevelt, Theodore Rex, Colonel Roosevelt – Edmund Morris
American Lion – Jon Meacham
SPQR – Mary Beard (this one might take a while)
Byzantium – Judith Herpin
MLP (oops, that's not mine)
Mastering Magick – Mat Aurin
Piranesi – Susanna Clarke
The Secrets of Story – Matt Bird
Bad Gays – (can't read the authors, too small)
The Atlas Six – Olivia Blake
Writing Historical Fiction – (can't read the author)
The Gray Raiders, Vol 1 and 2
A Primer for Poets and Readers of Poetry – Gregory Orr
The Secrets of Character – Matt Bird
The Gray Ghost – (author too small)
What Would Johnny Dent Do? – (author unreadable)
Hunter and Magus – Morgan Chalut
The Cruel Prince – Holly Black
Crescent City – Sarah J. Maas
Crafting Magick – (author too small)
The Life and Legacy of John Mosby – Charles River Editors (in progress)
50: Blueforce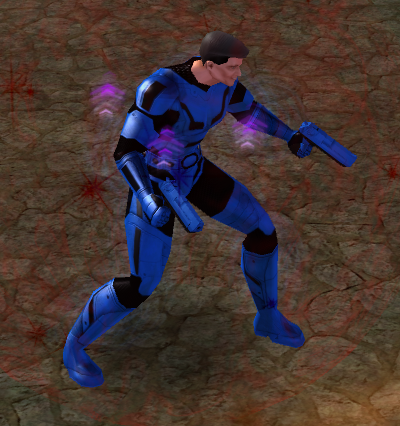 December 11, 2022
Sentinel
Dual Pistols/Super Reflexes
Vigilante
An ex-cop who bought his own armor and decided to become a vigilante.
This is a really good build. Damage is mediocre against 54's, but he stays alive.
To Write to Market or not
What is a market that is almost a guarantee for sales?
Romance.
Any kind.
Second is cozies.
The reading public is getting older, is mostly female. YA is read by middle-aged women as well as the YA audience it's meant for. Gay romance is read by women (and now written by women, too).
My publisher, next year, is aiming for short works, because that's where the money is. I don't often write short works, and I can't see myself doing novellas. My goal this year was to get a 75,000 word novel out. Fail.
I want to write a sellable story. Something that will make me money, for God's sake. I've written what I liked, now I'm looking to the market.
And that market is romance.
The only romance I have in mind is Iron Buitterfly that's been kicking around in my head for the last couple of years. I plotted it out the first third of the book, and lost interest. It got stupid. That's what I find with romances: they get stupid.
I like to write paranormal romance, romantic suspense/mystery, cozy mysteries (thanks, mom), and gay romance without extra spice. Yeah, I'm getting old. ("Get off my lawn!") The problem? There's nothing in the well.
The only stimulus is Longmire and Walker that I've been watching while in dialysis. Reading is mostly non-fiction because I don't want to make the effort to stick with fiction. Should I write fan-fiction, just to get things started? Actually, they're putting their characters through the wringer enough.
I'm afraid I've lost my imagination. Maybe I'm trying too hard. Maybe I'm tying up the muse and she's being stubborn. I show up every day and look at the empty notebooks I've stocked up on, waiting for Calliope to tell me stories.
Maybe the idea of writing for money is what's stopping me. Or her. Writing used to be fun. Now it'll be a job.
And Calliope probably doesn't like that. So I don't know what to do. Force the money-making story at gunpoint or wait for the inspiration? Man, this is tough.